Food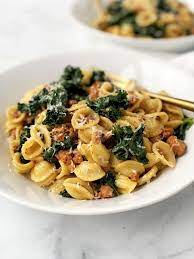 SPICY ORECCHIETTE – CHICKEN SAUSAGE & KALE
Spicy Orecchiette With Chicken Sausage & Kale is a variation of one of my favourite fast weeknight meals, pasta + Parmesan plus vegetable. This recipe is great for budget-minded people who already know the formula. But, it will make your dinner routine much easier for new friends. You can find my favourite recipes in the past, and I will list them all. This simple formula will make your weeknight meals easy.
What kind of Sausage is best?
This recipe was made with Aldi's Italian-style chicken sausage. However, this recipe can be adapted to any other flavour of chicken sausage, regular Sausage or Vegetarian Sausage. Red peppers are a great option if you like your dish spicy.
IS IT PERFECT TO MAKE A NON-SPICY ORECCHIETTE WITH CHICKEN SAUSAGE AND KALE
Yes, absolutely. Yes. Although I love the added spice, this recipe is delicious enough to be enjoyed without heat. This recipe is not spicy if your Sausage doesn't contain red pepper. Also, you can skip the red pepper flakes and decrease the quantity of freshly cracked black pepper.
CAN I USE A DIFFERENT PASTA STYLE?
Orecchiette is sometimes difficult to find. It can also be more expensive than other pasta shapes. You are free to substitute it with what you have. Thin spaghetti, whole wheat spaghetti (the nutty flavour is great with Parmesan), and even wide egg noodles would be my second choice. Penne is another convenient option.
WHAT CAN I USE INSIDE KALE?
Fresh spinach and other green vegetables such as broccoli florets and asparagus are delicious. A few grape tomatoes are fine!
MAKE IT VEGETARIAN
It's easy to make this Spicy Orecchiette With Chicken Sausage And Kale vegetarian. Aldi is a vegetarian sausage very similar to chicken sausage. This recipe is also great without any sausage. You can use nutritional yeast flakes or make vegan Parmesan. I trust two recipes for vegan parm: How To Make Vegan Parmesan cheese-Minimalist Baker, Simple Vegan Parmesan cheese Recipe-Cookie+Kate.
SPICY ORECCHIETTE – CHICKEN SAUSAGE & KALE
Spicy Orecchiette With Chicken Sausage and Kale: A quick, filling, and easy weeknight meal that will satisfy everyone. You can even reheat leftovers beautifully!
Prep time: 5 minutes
Cooking Time: 15 minutes
Total Time: 20 minutes
Serving Size: 1.5 cups
INGREDIENTS
8 oz. orecchiette ($1.33)

2 Tbsp olive oil ($0.32)

12 oz. chicken sausage ($2.99)

2 Tbsp Butter ($0.27)

2 cloves minced garlic ($0.16)

8 oz. chopped kale* ($2.14)

1/4 cup grated Parmesan ($0.44)

1/4 tsp crushed pepper ($0.02)

1 pinch of salt ($0.02)

Freshly cracked pepper for taste ($0.05).
INSTRUCTIONS
Follow the instructions on the box to cook the orecchiette. Reserve 1/3 cup starchy pasta water before draining the orecchiette.

Start preparing the rest while the orecchiette cooks. Cut the chicken sausage into medallions.

In a large saucepan, heat the olive oil and the chicken sausage until they brown.

Continue to saute the Sausage for one minute more in the butter and minced garlic.

Then, add the chopped Kale and the reserved pasta water. Reduce the heat to medium-low, and cook the Kale for 2-3 minutes. As you stir, use your spoon to scrape any brown bits from the bottom of the pot.

Stir in the cooked and drained orecchiette. Let the pasta and Kale cool down for 5 minutes if they are still steaming. Stir occasionally to let steam escape. The Parmesan should coat the pasta but not melt.

When the pasta and Kale are hot but not steaming, stir in the grated Parmesan and crushed red pepper. Mix well, taste and adjust salt as needed. Serve warm.
NOTES
*I prefer pre-chopped bagged Kale, which is very convenient and often still very affordable. This recipe used organic ingredients that were still affordable.
NUTRITION
1.5 cups Calories: 468.75 Kcal Carbohydrates 48.15 G Protein: 24.1g Fat: 23.08g Sodium: 850.5 mg Fiber: 3.48g