Food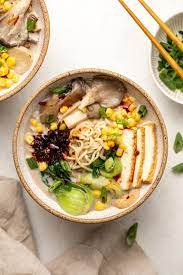 VEGAN CREAMY MUSHROOM RAMEN
I hope you're now more open to using leftovers from your fridge. My favourite recipes have been created by simply putting whatever leftovers I have in my fridge into a pot or bowl and watching how it turns out. This is one of my favourite recipes, and it takes only 15 minutes with just a few ingredients. #totalwin
I had leftover coconut milk from making my Chickpea Masala and Easy Cauliflower on FB live yesterday, so I bought some baby Bella mushrooms at Aldi for $1.69 each. I also had the intention of roasting them. After Orange Theory, I was hungry and found coconut milk and mushrooms in my fridge. I knew exactly what to do!
This ramen broth (vegetable broth + coconut cream) is so simple that I will be making regular "cream" mushroom soup using this recipe very soon. This recipe is for you if you don't love ramen but like creamy mushrooms. 😉
What kind of MUSHROOMS should I use?
For this recipe, you should get full-sized portabella or baby Bella mushrooms. These mushrooms have a rich colour and a strong flavour that makes them stand out from regular button mushrooms.
VEGAN CREAMY MUSHROOM RAMEN VIDEO
Vegan Creamy Mushroom Ramen Play Video
What kind of COCONUT MILK SHOULD YOU USE?
For this recipe, I used full-fat coconut cream in a can. It made the broth rich and delicious. And it tasted nothing like coconut. You might be able to use light coconut milk. However, the broth will not be as thick or creamy. I don't recommend using a coconut milk substitute made with dairy milk. It is far too thin. This recipe can only be made with canned coconut milk.
What kind of RAMEN SHOULD I USE?
Per pack ramen. There was nothing fancy here. I did throw out the seasoning packet to make my vegetable broth ( Better than Bouillon).
WHAT ELSE CAN YOU PUT IN YOUR VEGAN CREAMY MUSHROOM RAMEN?
You can do whatever you like! Ramen is a great way to use up leftover veggies and protein. Check out my 6 Methods to Update Instant Ramen post to see more fun ideas for ramen. You can add tofu, chopped bell peppers, sesame seeds, shredded cabbage, and carrot.
VEGAN CREAMY MUSHROOM RAMEN
This delicious Vegan Creamy Mushroom Ramen recipe is quick and easy to make in 15 minutes.
Prep time: 3 minutes
Cooking Time: 12 minutes
Total Time: 15 minutes
INGREDIENTS
1/2 Tbsp of cooking oil ($0.02)

4 oz. baby Bella mushrooms ($0.85)

1.5 cups vegetable broth ($0.20)

1 handful of fresh spinach ($0.53)

1 pack of ramen noodles with discarded seasoning ($0.25)

1/2 cup coconut milk canned ($0.66)
OPTIONAL GARNISHES
1 green onion, cut ($0.11)

1 Tbsp chilli garlic sauce or sriracha ($0.13)
INSTRUCTIONS
Cut the mushrooms into pieces. Place the chopped mushrooms in a small saucepan with the oil.

Turn the heat to medium-high and add the vegetable broth. Bring the broth to boil. Add the ramen noodles to the boiling broth without the seasoning packet. The noodles should be cooked in boiling broth for 3 minutes or until tender.

Turn off the heat and add a handful of fresh spinach. Stir until the spinach is wilted (30 seconds). Stir the coconut milk into a pot.

The Vegan Creamy Coconut Ramen can be served as-is or with garnishes such as green onion or chilli garlic.
NUTRITION
Serving: 1 Recipe Calories 714 kcal Carbohydrates 67 g Protein 16 g Fat 45 g Sodium 2021 mg Fiber 4 g