Food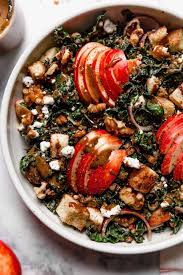 AUTUMN KALE & APPLE SALAD
Even though it is 95 degrees outside, I am moving fast to indulge in my autumn obsession. A fall-inspired salad perfectly compromises the scorching heat and my desire to adore all things fall. This week, I created this delicious Autumn Kale and Apple Salad. It's delicious, guys. It's so good. It was like, "Oh, I just ate half a pound of Kale."
KALE SUBSTITUTIONS
I understand that not everyone likes Kale much, which is okay. You could also make this salad with a tender green like spring mix or spinach. You can skip the part where I mixed the dressing into the Kale if you use a more tender green.
SUBSTITUTIONS FOR BLUE CHEESE
Don't be discouraged if you don't like blue cheese. It would be great to add feta or chevre (goat) cheese. This salad could also be made with white cheddar.
What type of apple should I use?
Jazz apples were my choice. They are crisp, tart and delicious apples. It would help if you chose an apple variety that is at most semi-tart. The candied walnuts add a lot of sweetness to the apples. For reference, see this Apple Comparison Chart from Sprouts Farmer's Market.
HOW TO STORE AUTUMN KAALE AND APPLE SALAD
You don't have to make this salad in one go. Refrigerated Kale will cause the dressing to continue to wilt. I prefer that the dressing be added before serving, so the salad doesn't get too dry. This keeps the Kale soft and not too tough.
CAN I USE A STORE-BOUGHT DRESSING?
You can use store-bought balsamic vinegar if you don't have enough ingredients or a well-stocked pantry. The homemade version is 100 times better, so I recommend you at least buy the ingredients. These ingredients are shelf-stable and can be used whenever you like to make amazing salad dressings.
AUTUMN KALE & APPLE SALAD
This Autumn Kale and Apple Salad combine all the fall flavours, including candied walnuts and homemade balsamic vinegar.
Prep time: 20 minutes
Cooking Time: 5 minutes
Total Time: 25 minutes
INGREDIENTS
BALSAMIC VINAIGRETTE
1/3 cup olive oil ($0.55)

3 Tbsp balsamic vinegar ($0.41)

2 Tbsp mayonnaise ($0.17)

1/2 Tbsp Dijon mustard ($0.09)

1 clove minced garlic ($0.08)

1/2 tsp dried Basil ($0.05)

1/4 tsp salt ($0.01)

Freshly cracked pepper ($0.02)
CANDIED WALNUTS
1/2 cup chopped walnuts ($0.60).

1/2 Tbsp butter ($0.07)

2 Tbsp brown sugar ($0.08)

1 pinch of salt ($0.01)
SALAD
8 oz. 8 oz.

1 apple ($0.52)

2 Tbsp crumbled Blue Cheese ($0.30).
INSTRUCTIONS
To allow the flavours to combine, make the balsamic vinegar dressing first. In a bowl, jar or blender, combine the olive oil, balsamic vinaigrette, mayonnaise and Dijon with minced garlic, dried Basil, salt, and freshly cracked pepper. Blend the dressing until smooth. Put the dressing aside.

Next, make the candied nuts. In a small skillet, melt the butter and brown sugar. Add a pinch of salt. Turn heat to medium and occasionally stir until brown sugar melts around the edges.

Stir the walnuts into the skillet. Cook on medium heat for 10-15 seconds. Stir frequently until brown sugar completely melts and coats walnuts.

The skillet should be taken off the heat immediately. Cool for about 10 minutes before spreading the walnut pieces in one layer.

In a large bowl, combine the torn kale leaves. Massage the balsamic vinegar dressing into the torn leaves of the Kale for approximately 2 minutes. The volume of the Kale should be about half.

Divide the apple into four equal pieces. Then, remove the core from each piece. Each quarter of the apple should be cut into small pieces.

Divide the massaged Kale among four plates. To each salad, add apple slices, a tablespoon of candied walnuts and 1/2 Tbsp of blue cheese. Serve each salad with a drizzle of balsamic vinegar.
NUTRITION
Serving Size: 1 Serving Calories: 408.63 Kcal Carbohydrates: 17.2 G Protein: 5.95 g Fat: 38.6g Sodium: 826.9 mg Fiber: 2.43 g