Food & Drink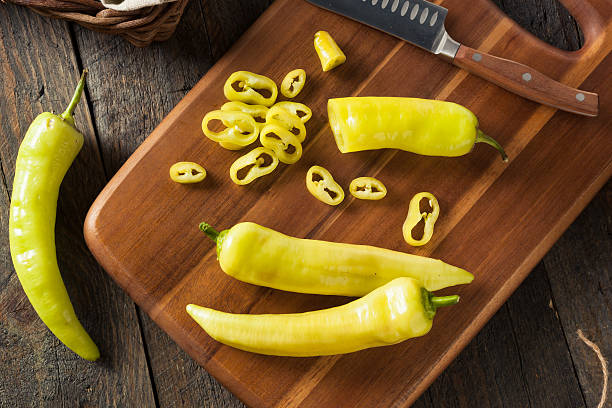 Creative Uses of Banana Peppers
You're likely used to growing more vegetables than you can use if you're a backyard grower. You might be one of those people who walks around with a bag of zucchini in your hand, begging for someone to take it. Some vegetables grow faster than others.
The banana pepper is no exception. It is easy to grow, grown in sweet or hot varieties, and contains fibre, beta-carotene and vitamins C. A banana pepper will look like a banana when ready for harvest. This is why the name.
You'll likely have a bumper crop of garden vegetables by the end of the growing season. If you have plenty of banana peppers from nature and can't eat them all in one day, don't refrigerate. What do you do when you have a whole bushel of banana bell peppers? There are creative ways you can use them. Banana peppers are not very hot to be used in various ways. 
Peppery Pizza
Pepperoni, sausage, and mushrooms are all great toppings for pizza. But what about your backyard garden? What about veggie toppings? This will be both healthy and delicious. Banana peppers have a sweet and tangy flavour to be used with cheese or other toppings. Here's a quick recipe:
You can make your pizza dough or buy it at the supermarket. Your dough should be rolled out, leaving a border at the edges for your crust. Spread a thin layer with sauce on the dough. Sprinkle on grated mozzarella cheese. Place a layer of torn Arugula leaves over the pie. Add small pieces of cured Italian salami to the top. Add sliced banana pepper rings to the top. Bake at 450 degrees Fahrenheit for 20-25 minutes on a baking sheet. Sprinkle with grated Parmesan cheese. Delicious!
Pickled Peppers
Pickling and canning banana peppers is a good option for a large crop. You can save a lot of money and still enjoy your banana peppers year-round. Pickled peppers can be used in many dishes, including hot dogs and hamburgers during picnic season. It's also fun to say "pickled peppers".
We won't go into details about canning — if you have never canned vegetables before, make sure you do so to sterilize everything properly. Here is the basic pickling recipe for banana bell peppers. You can add other ingredients to make it your own. Some people add jalapeno peppers to give it some heat. Others add garlic. Get creative.
3 pounds banana peppers

5 cups cider vinegar

1 1/4 cups water

5 teaspoons of canning salt

2 tablespoons celery seeds

4 tablespoons mustard seeds
Wash banana peppers, and remove the stems. Cut banana peppers into rings measuring about a quarter of an inch in thickness. Bring all ingredients to a boil in a saucepan. Cover sterilized canning containers with your peppers, and then cover them with the boiling liquid. Follow the instructions to can.
Banana Pepper Varieties
There are many varieties of banana peppers. The Bananarama, a large sweet banana bell pepper measuring 8 inches (20.3 cm) in length, is an example. A popular sweet banana pepper variety, the Cubanelle, is often used in salads. You can also grow hot banana peppers if you prefer spicy. However, they won't be as hot as jalapenos and other hot peppers. They're mild.
Stuffed Banana Peppers
Stuffed green peppers are something we've all seen. Bell peppers are not for everyone. Try it with banana peppers. Banana peppers are milder than bell peppers and add a unique flavour to the traditional dish. Stuffed peppers can be made meaty or non-meat, depending on your preference. You can substitute meat with rice, quinoa, or another meat alternative.
You will need about a pound for every four good-sized banana bell peppers. You can make it spicy or mild, depending on your taste. Make a flip-top shape by slicing the top of the pepper. In a large skillet, brown ground beef or sausage and then set aside. Mix bread crumbs and Romano cheese in a large bowl. Add salt and pepper to taste. Mix the meat with the bread crumbs/cheese, and then add another egg or more depending on how dry or moist you like the stuffing. Fill the peppers with the stuffing, and then close the tops. The peppers should be fried in olive oil until they are browned on all sides. If desired, serve with some marinara sauce and grated cheese.
Deep-fried Banana Peppers
Fried banana peppers are a Southern classic and can be served as an appetizer or side dish alongside roasted Ham or fried Chicken. Pickled banana peppers and mild or spicy peppers can be fried. They are easy to make, and everyone loves them. How to deep fry banana peppers
Saltine crackers are the secret to this Southern recipe. Slice the banana peppers lengthwise after washing them. Please take out the seeds and dry them with a towel. After soaking the peppers in milk, dip them in flour-crushed saltine crackers. Fry the peppers in hot vegetable oil until golden brown. Use tongs to remove the oil from the pan. Drain on paper towels and serve warm.
Fried banana peppers are delicious on their own or with a cocktail sauce, ranch dressing or even dipping in ranch dressing. You can offer your family many dip options!
Banana Pepper Poppers
For a long time, jalapeno poppers were a favourite among bar food lovers. The peppers are cut open and filled with cream or cheese. They then get deep-fried. Banana pepper poppers are a favourite of many.
The banana peppers should be washed and dried. Split the banana peppers in half along their length and remove the seeds. Each half should be filled with cream cheese. This is the best part. To hold the peppers, wrap a thin (about 1/3 of a piece) piece of bacon around them. Bake at 375° for about 30 minutes or until crisp. Warning: These can be addictive!
To make it more interesting, you can add shredded cheeses such as Gouda, Parmesan, or Monterey Jack. If you don't like bacon or don't eat meat, you can skip the bacon. You can also top the cream cheese mixture by adding bread crumbs. Salt, pepper, garlic powder and paprika can be added.