Food & Drink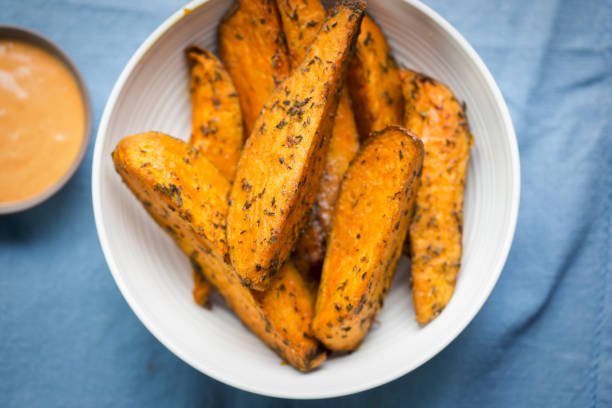 LOADED SWEET POTATOES WITH CHIPOTLE LIME CREMA
Loaded Sweet Potatoes With Chipotle Lime Crema make a great meal prep option. They're pre-portioned, so they're ready to go. This recipe can be topped with many different seasonings. Get creative and use whatever ingredients you have on hand.
PORTIONS
This dish's portion size will vary depending on the size of the sweet potato and whether you use a whole or half potato per person. One-half of sweet potato was used in this recipe. However, if you prefer whole sweet potatoes per serving, roast them whole. Make sure to increase the cooking time to ensure they stay soft. After the potatoes have been sliced open, you can season them with your favorite seasoning.
SUBSTITUTIONS AND ADD-ONS
This recipe is super customizable, as you can see. These sweet potatoes can be made with any combination you like. For inspiration, think about toppings for tacos or nachos. You can add corn to the bean-pepper mix, avocados, cilantro, and crispy tortilla chips. There are many options. 🙂
LOADED SWEET POTATOES WITH LIME CREMA
Loaded sweet potatoes are the ideal pre-portioned option for weekly meal preparation. They can be customized to your liking and can be reheated well.
Prep time: 15 minutes
Cooking Time: 30 minutes
Total Time: 45 minutes
INGREDIENTS
2 lbs. sweet potatoes ($1.93)

2 tablespoons olive oil, divided ($0.26)

2 Tbsp Jerk Seasoning (or your favorite seasoning salt) ($0.20

1 clove of garlic ($0.08)

1 red bell pepper ($1.50

1 15oz. 1 15oz.

1/4 teaspoon ground cumin ($0.03)

1/2 teaspoon salt, divided ($0.04)

One lime, zested and juiced ($o.22).

1/2 cup sour cream ($0.45)

1/2 teaspoon chipotle powder ($0.02)

1/4 teaspoon garlic powder ($0.02)

1 jalapeno (optional), thinly sliced ($0.10)

1 green onion, cut ($0.10)
INSTRUCTIONS
Preheat the oven to 400oF. Make the Chipotle Lime Crema by zesting and juicing the lime. Mix the sour cream, 1/2 tsp lime zest, chipotle powder, garlic, and 1/4 teaspoon salt. Mix all ingredients and refrigerate until ready for use.

Wash and dry sweet potatoes. Use a fork to poke the skins multiple times. Cut the sweet potatoes in half along the length. Then, coat each piece with 1 Tbsp olive oil.

Season the cut sides with Jerk Seasoning or any other seasoning salt you like. Place the sweet potatoes cut-side down on a baking sheet. Bake the sweet potatoes for about 30 minutes or until soft. The juices will seep out from the bottom, and the skins will look wrinkled.

While sweet potatoes bake, mince a clove of garlic, dice the red bell and green peppers, and slice the jalapeno.

In a large skillet, heat the olive oil and add the minced garlic. Cook the minced garlic on medium heat for about one minute. Then add the diced bell, Pepper. After the Pepper has softened, saute it for 2 to 3 minutes. Then add the black beans and cumin. Cook the beans until they are tender.

Use a spatula or a fork to flip the sweet potatoes once they have come out of the oven. Use a fork to mash the sweet potato flesh. Next, add the bean-pepper mixture. Serve each dish with the jalapeno sliced, and the chipotle lime crema drizzled over it.
NUTRITION
Serving Size: 1 Serving Calories: 403.65 Kilocalories: 62.23 G Protein: 10.43 G Fat: 13.53g Sodium: 796.3 mg Fiber: 12.95g