Food & Drink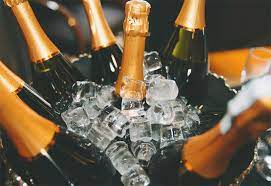 10 Amazingly Fun Champagne Gifts for Every Occasion
You've found the best Champagne gift ideas to give your loved ones.
Champagne Saber
A Champagne Saber makes opening Champagne bottles an exciting experience!
Champagne sabres are a great gift because of their unique design elements, such as intricate hilts or classic gold-or silver blades.
Champagne Gift Baskets
A Champagne gift basket can be a wonderful way to make a lasting impression. This is a great option for corporate gifting.
Even if someone has just graduated from college or been promoted, you can send them a congratulations gift basket.
You have the option to buy or create your gift basket.
You can make a DIY basket by purchasing a hamper, adding half a bottle of Champagne, and snacks such as nuts, cheese, and premium dark chocolate.
Champagne Truffle Chocolate
A Champagne and Truffle Chocolate Box will be a wonderful treat for your loved ones.
You can make it a Champagne gift even more special by adding a bottle of bubbly to it!
Cool Coasters
For wine lovers who love home decor, a set of coasters featuring fun Champagne slogans, Champagne illustrations or images would make a great gift idea.
Coasters are also practical and can be used to prevent spills or furniture stains.
Champagne bottles (7 highly sought-after wines)
A champagne bottle is an ideal gift for a Champagne fan. Choose a limited-edition or iconic wine and place it in a fancy gift bag.
These are seven amazing wine gifts
1. 2006 Dom Perignon x Lady Gaga Rose, Champagne, France ($462)
Wine enthusiasts will love the Champagne and the limited edition bottle.
2. Laurent Perrier Robe edition Cuvee Brut Rose Champagne, France ($88).
This bold Laurent Perrier wine is packaged in a special bottle with intricate butterflies that symbolize the brand's commitment to protecting the environment. It makes a great gift idea for those who are environmentally conscious.
3. 2012 Veuve Clicquot Ponsardin La Grande Dame Brut by Yayoi Kusama, Champagne, France ($214)
Yayoi Kusama in Japan designed this limited edition Veuve Clicquot bottle. It comes in a beautiful gift box that is perfect for collectors!
4. 2009 Louis Roederer Cristal "Gold Medalion" Orfevres Limited edition Brut Millesime Champagne, France ($259) This Louis Roederer wine tastes amazing and is packaged in a gorgeous golden bottle.
5. 2013 Moet & Chandon Grand Vintage Brut Champagne, France ($69).
This award-winning Moet & Chandon wine makes the perfect gift for anyone who loves to taste dried flowers, honey and nougat.
6. 2012 Pol Roger Cuvee Sir Winston Churchill Brut Champagne, France ($259) Churchill was a regular Pol Roger Champagne drinker. He enjoyed it almost every day, and every year, the Champagne house would send him a bottle.
We can't think of a better way than this Cuvee with Chardonnay and Pinot Meunier grapes.
7. 2002 Dom Perignon Andy Warhol Tribute collection, Champagne, France ($581)
This Dom Perignon, Andy Warhol bottle, is a gift for the artist in your life. This collection is a tribute to the great artist and his amazing personality.
This was also the first time Champagne House had changed the colour of its distinctive label.
Set of Crystal Champagne Flutes
This classic Champagne gift is a luxurious champagne flute set made of crystal. This set of glasses will delight any wine lover. This glass set is a conversation starter, and it adds style to any dinner event.
Wine accessories
Home bars need wine accessories. Many beautiful, high-quality wine accessories are available that every Champagne lover will love.
Here are some suggestions:
Wine Stopper

 A wine stopper is necessary to prevent unfinished bottles from going flat. Choose a wine stopper that is high-quality and sleek.

Luxe Champagne Bottle Bucket:

 This 

Champagne bucket

 is more fun than the traditional one, and it's great for gifting. It would help if you looked for one with intricate designs and beautiful motifs. It's a win-win if it doubles as decor when not being used.

Champagne Tool Kit:

 A collection of Champagne tools is always handy. This set includes a Champagne knife, corkscrew and sealer, and a wine pourer.
Vintage Champagne Posters
Vintage Champagne posters are a great gift idea for those who love home decor. This poster will bring a lot of personality to any living space or bar area.
Cocktail Kit
There's a good chance that your loved one enjoys alcohol. A cocktail kit that can make a fun Champagne Cocktail is an excellent gift idea.
You can either buy a kit of cocktail ingredients or make your own. You can also add garnishes.
Champagne Texturizing Hair Spray
This hair spray makes a wonderful gift for a Champagne aficionado or hair lover.
Champagne texturizing spray has healthy ingredients like grape seed extract, which is rich in antioxidants, and resveratrol, derived from Champagne grapes!
This will make your hair silky smooth and give you more volume.