Food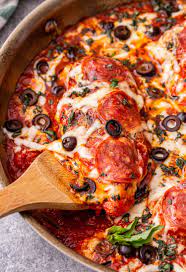 BAKED PIZZA CHICKEN
Being a blogger for more than ten years has allowed me to see how my cooking style and skills have evolved. My Pepperoni Stuffed Chicken was one of my first viral recipes. Although it was delicious, it was much more time-consuming for Beth. Baked Pepperoni Chicken offers a lighter but equally delicious version of pizza-style chicken. This recipe is quick and easy to prepare, making it ideal for weeknight meals. It can also be stored in the refrigerator for meal preparations. This newer version is much easier to prepare than the older one.
BAKED PIZZA CHICKEN: HOW TO SERVE
I served my Baked Pizza Chicken with Homemade Garlic bread and a simple side dish. Side dishes are simple for dinner. Bonus: You can bake the garlic bread in your oven for the last five minutes of cooking the chicken.
Also, you could serve your pizza chicken on a bed of pasta with red wine.
You can also make a chicken sandwich with this Baked Pizza Chicken. You can put it on a piece of bread with some pizza sauce and perhaps some red onions. Treat it as a meatball sandwich.
FRESH MOZZARELLA IS A MUST
Fresh mozzarella (the one packed in water) works the best but can be expensive. You can find it at a bargain price if you live near an Aldi. Full-fat mozzarella, which is not packed in water, is the best alternative to fresh mozzarella. You can also use part-skim mozzarella as an alternative. Part-skim mozzarella is less liquid and will not melt as easily, but it can be used in an emergency.
CAN I ADD OTHER TOPPINGS TO THE TOPPINGS?
Sure! You can add pepperoni to your dish. I recommend cutting the toppings into small pieces. Black olives, red onion and perhaps some finely chopped bell pepper, would all be great.
BAKED PIZZA CHICKEN
This quick and easy Baked Pizza Chicken makes a great weeknight meal. This chicken is quick to cook and stays tender and juicy.
Prep time: 15 minutes
Cooking Time: 20 minutes
Total Time: 35 minutes
INGREDIENTS
1 Tbsp Italian seasoning mix ($0.30)

1/8 teaspoon garlic powder ($0.02)

1/8 tsp salt ($0.01)

2 Tbsp olive oil ($0.32)

2 boneless, skinless chicken breasts (about 1/3 lb. each) ($7.64)

1/4 cup pizza sauce ($0.17)

4 oz. fresh mozzarella ($1.33)

8 slices of pepperoni ($0.23)
INSTRUCTIONS
Preheat the oven to 400oF. Mix the Italian seasoning mix, garlic powder, salt and olive oil in a small bowl.

To prevent any splatter, place the chicken breasts on a cutting board. Cover with plastic wrap. Use a rolling pin or mallet to pound the chicken to a uniform thickness of about 3/4 inch. To make two equal-sized pieces, cut each chicken breast in half.

Place the breasts of the chicken in a shallow baking pan or on a baking sheet. Each piece of chicken should have oil and herbs mixed on its surface.

Bake the chicken for 15 minutes in a preheated 400oF pan. While the chicken is baking, cut the mozzarella.

After 15 minutes, take the chicken out of the oven. Each piece should have 1 Tbsp of pizza sauce on its surface. Then, top each piece with approximately 1 oz. Two slices of pepperoni and mozzarella cheese.

Bake, the chicken for another 5-10 minutes or until it, reaches 165°F. Take the chicken out of the oven and let cool before serving.
NUTRITION
Serving Size: 1 Serving Calories : 379.93 Kcal Carbohydrates : 3.2 G Protein: 45.85 G Fat: 19.28g Sodium : 458.98mg Fiber: 0.25g