Food & Drink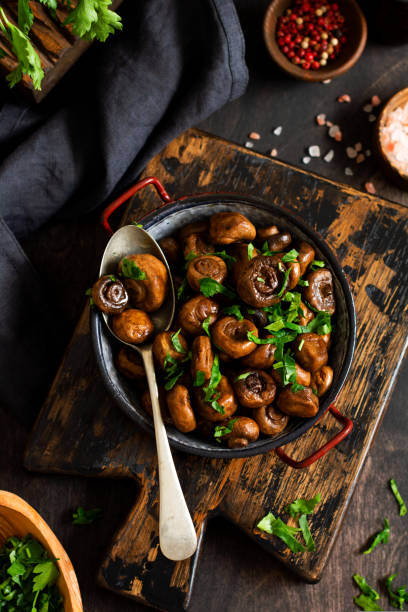 BALSAMIC ROASTED MUSHROOMS & HERBYKALE MASHED POTATOES
When planning my menu for the Vegetarian Challenge week 3, I looked through my pantry and realized that I had approximately two pounds of potatoes leftover from week one. I needed to use them as soon as possible. I made a modified version of my Fluffy Garlic Herb Mashed Potatoes. However, it was also modified to use some leftover sour cream. To make the potatoes colcannon-esque, I added some sauteed Kale and then topped it with balsamic roasted mushroom for an extra "meaty" component. These were incredible results and may have been my favorite challenge recipe. !
MAKE IT VEGAN
You can make this meal vegan by replacing the mashed potatoes recipe with my Olive Oil Mashed Potatoes. The olive oil mashed potatoes can be stirred with spinach or kale, just like in the sour cream mashed potato recipe.
PREP YOUR MEAL!
This recipe is great for meal prep because it keeps well in the fridge. It's great for meal prep!
BALSAMIC ROASTED MUSHROOMS & HERBYKALE MASHED POTATOES
This Balsamic Roasted Mushrooms and Herby Kale Mashed Potatoes is a vegetarian dish that will please anyone who loves "meat-and-potatoes" meals.
Prep time: 25 minutes
Cooking Time: 45 minutes
Total Time: 1 hour 10 minutes
INGREDIENTS
BALSAMIC ROASTED MUSHROOMS
1 lb. mushrooms ($2.58)

1 Tbsp olive oil ($0.16)

3 Tbsp balsamic vinegar ($0.33)

1/2 cup brown sugar ($0.02)

1 Tbsp soy sauce ($0.06)

2 cloves minced garlic ($0.16)

1/4 tsp dried rosemary ($0.02)
HERBYKALE MASHED POOTTOES
2 lbs. russet potatoes ($1.08)

6 oz. 6 oz.

1 Tbsp olive oil ($0.16)

1/4 teaspoon salt, divided ($0.04)

1/2 cup sour cream ($0.45)

1/2 cup milk $0.17

1 teaspoon dried parsley ($0.10)

1/2 tsp dried Oregano ($0.05).

1/2 tsp dried Basil ($0.05)

1/4 teaspoon garlic powder ($0.02)

1/4 teaspoon onion powder ($0.02)

Freshly cracked pepper ($0.02)
INSTRUCTIONS
Pre-heat the oven to 400oF. If the mushrooms are very large, wash them and cut them in half.

Mix the olive oil with balsamic vinegar and brown sugar in a small bowl. Add the minced garlic, soy sauce, brown sugar, salt, and thyme to a small bowl. Place the mushrooms in a large casserole dish that is big enough to hold them in one layer. Mix the balsamic glaze over the mushrooms and stir to coat.

Place the mushrooms in a baking dish and bake for 45 minutes. Stir them after 15 minutes. The mushrooms should be softened after 45 minutes.

While you wait, make the mashed potatoes. Cut the potatoes into 1-inch cubes. The cubes should be rinsed in a colander. Next, please place them in a large saucepan with 1/2 teaspoon salt. Cover the pot with cool water. Cover the pot with a lid and bring to a boil. Boil the potatoes for 7-10 minutes or until they are tender.

After the potatoes have become very tender, drain them in a colander and rinse with hot water. While you prepare the kale, let the potatoes drain in a colander.

In the same pot used to boil potatoes, add the chopped Kale, 1 Tbsp Olive oil and 2 Tbsp of water. Let the kale cook on medium heat for 3-5 minutes, then take it out of the pot.

Add the drained potatoes and 1/4 teaspoon salt to the pot. Mix the potatoes well. Taste and adjust salt as needed. Add the sauteed kale.

Make the bowls by adding 1/4 cup of the herby Kale Mashed Potatoes to each bowl and then topping it with 1/4 cup of balsamic roasted mushroom. Pour a few drops of the juices from your casserole dish onto the mushrooms and mashed potatoes.
NUTRITION
Serving Size: 1 Serving Calories 376.63 Kcal Carbohydrates 55.35 G Protein: 11.93 G Fat: 13.9g Sodium 786.73 mg Fiber 5.33 g