Food & Drink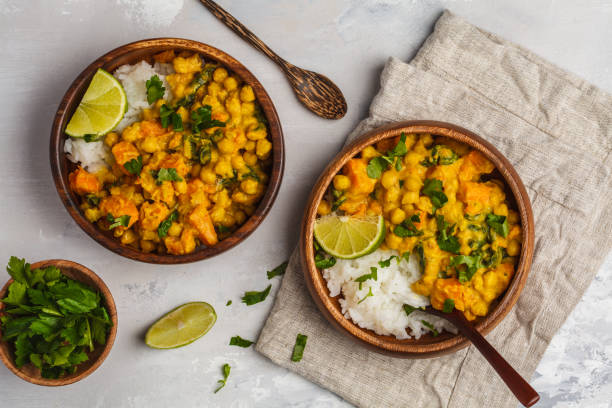 EASY CHICKPEA AND CAULIFLOWER MASALA
My new favorite meal is this simple, creamy, spicy Cauliflower and Chickpea Masala. The spicy-creamy sauce is so good that I can't help but eat a chunk of naan. This recipe is super easy to make, takes very little time to prepare, and keeps well in the refrigerator. It's also great for meal preparation! This recipe is going straight into my weekly rotation. 🙂
HOW TO SERVE CAULIFLOWER & CHICKPEA MASALA
My Cauliflower and Chickpea Masala have been served with a piece of naan bread, but it would also be great over hot rice. It's creamy, spicy and delicious!
MAKE IT SPICY OR MILD
This sauce can adjust its heat by changing the quantity of cayenne pepper or reducing it. This amount creates what I would consider a medium spice level. However, that is highly subjective so take it with a grain.
MAKE IT VEGAN
Full fat coconut milk, which is the stuff in the cans and not the substitute for dairy milk, would work well as a substitute for the heavy cream in the recipe. You can adjust the quantity, but I suggest somewhere between 1/2 and 1 cup.
CAULIFLOWER & CHICKPEA MAALA
This Cauliflower and Chickpea Masala is a super simple, creamy, and highly spiced weeknight meal that will become your favorite. You can get so much flavor with so little effort.
Prep time: 10 minutes
Cooking Time: 30 minutes
Total Time: 40 minutes
Servings: Each approximately 1.25 cups
INGREDIENTS
MASALA SPICE MIX
2 Tbsp Garam Masala ($0.60)

1/2 teaspoon cumin ($0.05).

1/2 teaspoon turmeric ($0.05).

1/2 tsp smoked paprika ($0.05)

1/4 tsp cayenne ($0.02)

1/2 tsp salt ($0.02)

Freshly Cracked Pepper ($0.03)
SKILLET INGREDIENTS
1 yellow onion ($0.21)

3 cloves of garlic (0.24)

1/2 Tbsp grated fresh Ginger ($0.15)

2 Tbsp olive oil ($0.32)

12 oz. Frozen cauliflower florets ($1.00)

1 15oz. Can chickpeas, drained (0.49)

1 15oz. can 

tomato sauce*

 ($0.59)

1/4 cup water ($0.00

1/3 cup heavy cream ($0.26)

Salt to taste ($0.02)
INSTRUCTIONS
In a small bowl, combine the spices for the masala spice mixture (garam masala, cumin, turmeric, smoked paprika, cayenne, salt, and pepper).

Finely chop the onion and garlic. Grate the Ginger. Combine all the ingredients in a large skillet. Heat the olive oil over medium heat. Sauté the onion mixture until translucent and soft (about 3 minutes). Continue to saute the spice mixture for another minute.

Continue to sauté the frozen cauliflower florets in the skillet along with the aromatics and spices for approximately 5 minutes or until they are fully thawed and coated in spices.

The skillet should be filled with chickpeas and tomato sauce. Mix and allow to simmer for 15 minutes on medium heat. Stir occasionally. This will reduce the acidity in the tomato sauce and allow the spices to mix. You can add more water if the mixture becomes dry during simmering.

After the sauce has simmered on low heat for 15 minutes, remove from the heat and add the heavy cream. Give the masala time to cool down and season it with salt if necessary. Serve the masala in a bowl with some bread or rice.
NOTES
*For people who don't live in the United States, our tomato sauce is pureed tomatoes with some salt and occasionally a small amount of onion powder. Passata is probably the closest product to this.
NUTRITION
Serving Size: 1.25 Cups Calories: 306.9 Kilocalories: 33.3 G Protein: 9.58 G Fat: 16.48g Sodium: 1153.2m Fiber: 10.45g