Food & Drink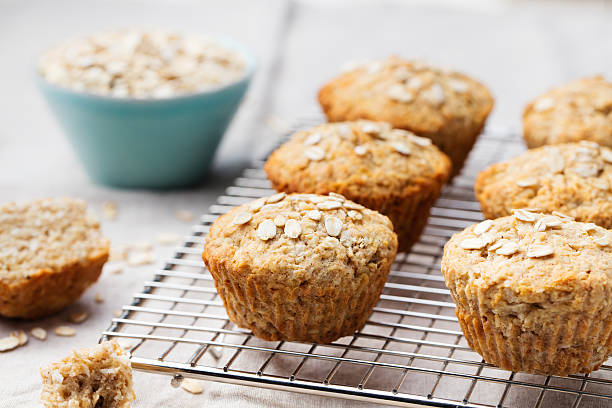 BANANA FLAX MUFFINS
Let me start by saying that I'm not an expert baker. I don't bake very often, but I did make these banana flax muffins the other night. I was inspired by some brown bananas and decided to play around with them in my kitchen. The batter is made with a lot of mashed bananas. It creates soft, sweet muffins that are moist and rich in oil and sugar, two ingredients you don't often see in muffins.
Reasonably delicious
These Banana Flax Muffins don't look like the giant cupcakes-in-disguise muffins you might find at your local café. These muffins are a bit less expensive and have a moderate sweetness with just the right amount of moisture. As if giant cafe muffins were Louboutin stilettos you lust after, these Banana Flax Muffins are the adorable pair of leopard print flats you use daily. It's fun, but it's still practical enough to wear daily.
ADD A STREUSEL TOPPING
Consider adding a streusel top if you want to make these muffins fancier. A simple recipe for a streusel topping can be found in my Streuseled Sweet Potatoes Recipe. Mix the streusel and then sprinkle it on top of each muffin. It's super easy and adds a little flair.
CAN I USE ALL WHEAT FLOUR
These muffins were made with all-purpose flour. However, I have not tested them with whole wheat flour. Generally speaking, you will get a denser, heavier and drier product if you replace all-purpose flour with whole wheat flour. Although it is possible to modify the recipe to work with whole wheat flour, this would require some testing. You will unlikely get very good results if you substitute whole wheat flour.
BANANA FLAX MUFFINS
These Banana Flax Muffins are soft, sweet, and moist, thanks to the use of mashed banana. This muffin is easy and delicious for breakfast! Author: Beth – Budget Bytes Prep time: 10 minutes Cook Time: 25 minutes Total Time: 35mins
INGREDIENTS
3/4 cup mashed ripe bananas* ($0.34)

1 large egg ($0.25)

2 Tbsp brown sugar ($0.08)

1/2 tsp vanilla ($0.14)

2 Tbsp olive oil ($0.32)

1 cup all-purpose flour ($0.11)

1 teaspoon baking powder ($0.04)

1/4 tsp salt ($0.02)

1/4 cup ground flaxseed ($0.12)

1/4 cup chopped walnuts (optional). ($0.57)
INSTRUCTIONS
Preheat the oven to 425oF. Mix the mashed banana with egg, brown sugar and vanilla in a large bowl. Add olive oil to taste.

Mix flour, flaxseed and salt in a separate bowl.

Mix the dry ingredients with the wet ingredients in a bowl. Stir them until they are well combined. Do not overmix the batter.

Place six muffin cups in a pan and line them with paper liners. Divide the batter equally between each cup. The batter should be almost full.

Bake the muffins in the oven for 5 minutes. After that, reduce the heat to 350oF without opening your oven door and bake for another 20 minutes.

Allow the muffins to cool in the tin after they have been baked. You can eat the muffins immediately or let them cool completely before storing them in an airtight container in your refrigerator.
NOTES
Ensure that the muffins have sufficient moisture and sweetness and are at least halfway ripe. To make 3/4 cup of mashed bananas, you will need 2 large bananas.
NUTRITION
Serving Size: 1 Serving Calories: 225.55 Kcal Carbohydrates: 28.47 G Protein: 4.82 G Fat: 10.2g Sodium: 216.63mg Fiber: 2.97 g