Food & Drink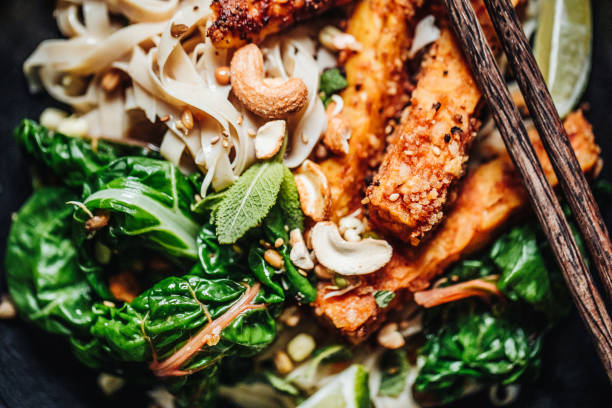 SAME TEMPEH BOWL
Although it's only two days since the Vegetarian Challenge ended on Sunday, my stomach already says, "Whoa, girl! Take it easy!" You thought I had told you before not to change things so abruptly!" This high-fiber, bean-filled goodness is up for grabs. I was pleased to see that tempeh was on sale today, so I made these Sesame Tempeh Bowls. I have been waiting for this recipe.
WHAT IS TEMPEH?
Tempeh is a fermented soybean cake. Although it sounds strange, I promise it is amazing. It has a neutral taste, with a slight bitterness, if any. It is a great source of plant-based protein and fiber and has a firm texture that's better than tofu. It is firmer than tofu, so it works better in the stir-fry.
FROZEN BROCCOLI IS NOW MY FRIEND
These bowls were made with frozen broccoli florets. It's so simple! They were thawed and added to the bowls. Broccoli frozen is blanched before freezing so that they are already partially cooked. When I heat my meal prep, they'll be done cooking. You can steam, boil, or bake them fresh if you prefer.
MEAL PREP IT
I placed them in individual containers to make it easy to eat my Tempeh Sesame Bowls over the next few days. They will keep it in the refrigerator for approximately four days.
SAME TEMPEH BOWL
These Sesame Tempeh Bowls make a great alternative to sesame poultry and take only 20 minutes to prepare. This is a quick and easy way to make vegan meals! Author: Beth – Budget Bytes Prep time: 10 minutes Cook time: 10 minutes Total Time: 20mins
INGREDIENTS
1/4 cup soy sauce ($0.24)

2 Tbsp water ($0.00

1 tbsp sesame oil ($0.33)

3 Tbsp brown sugar ($0.12)

1 Tbsp rice vinegar ($0.12)

1 tsp grated fresh ginger ($0.10)

2 cloves minced garlic ($0.16)

1 Tbsp sesame seeds ($0.08)

1/2 Tbsp cornstarch ($0.2).

8 oz. tempeh ($2.50

2 green onions, sliced ($0.11)

4 cups cooked jasmine rice* ($0.70)

1 lb. frozen broccoli florets ($2.26)
INSTRUCTIONS
Mix the sesame oil and sesame sauce. Mix the sesame sauce, 2 Tbsp of water, sesame seed oil, brown sugar and rice vinegar in a medium bowl. Stir until cornstarch is dissolved. Set aside the sauce.

Each brick of tempeh should be cut into eight pieces. Then, each piece should be cut diagonally into a triangle. Each triangle should be turned on its side. Then, cut each triangle in half to make two thinner triangles. You don't need thick pieces to achieve the right tempeh-sauce ratio.

Add 1/2 cup of water to the large skillet with the tempeh. The skillet should be placed on medium heat. Let the tempeh simmer for about 5-8 minutes. As the tempeh simmers, flip it a few times.

Turn the heat to medium once the water has evaporated. Add the sesame oil. The sauce will thicken quickly because the skillet is still very hot. Stir the tempeh into the sauce for 1-2 minutes, then remove it from the heat immediately. This will prevent any further thickening or evaporation.

For the bowls, add 1/4 cup of rice to each dish. Top with 1/4 cup sesame tempeh and 1/4 of the broccoli leaves. Sprinkle some green onions on top.
NOTES
*Substitute brown rice for plain white rice, if you wish.