Food & Drink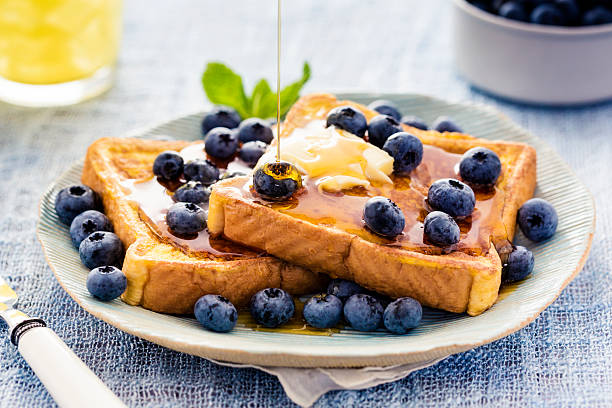 Blueberry Syrup: The Best Recipe
This was the first thing I ever made when I started cooking. Blueberries are my favorite fruit, or top 3; I find it hard to pick absolute favorites. So that makes sense.
I used water to replace the fruit juice back then. It just makes things worse. Why not use something stronger that doesn't overpower the blueberry flavor instead?
Blueberry syrup made from scratch is delicious, fresh, sweet, delicious, and extremely easy to make. It's a great addition to any weekend or holiday breakfast.
It can be used in many other ways than pancakes. For more ideas, see the links in the recipe box. Make sure to include the whipped cream in most of these recipes!
This will make you realize there is more to breakfast than maple syrup. It's also a hundred times more delicious than the blueberry syrup you can buy at the grocery store.
Blueberry Syrup Recipe Ingredients
2 cups (10 oz) or 1 pint fresh or frozen blueberries

1 cup + 2 Tbsp of blueberry juice, grape juice, or apple juice

1/3 cup granulated Sugar

4 tsp cornstarch

1 Tbsp lemon Juice
How to Make Blueberry Syrup
Combine blueberries, 1 cup of juice, and sugar in a small saucepan. Stir. Heat the mixture to a simmer on medium heat.
Reduce heat to low, and let simmer for 6-10 minutes, stirring occasionally, until the blueberries burst.
Mix the remaining 2 Tbsp of juice and cornstarch in a small bowl. Then pour it into a pan. 

Let simmer for 1 minute , stirring frequently.

Take out of the heat.

 Stir in lemon juice.

If you prefer, strain the mixture through a mesh sieve.
Useful Tips and Variations
Adjust sugar to suit the sweetness of the Blueberries being used. 

There have been very tart blueberries that didn't require all the sugar, and sweet ones that did not need it.

You can substitute half the sugar with equal honey .

If you prefer a mix of berries, you can substitute half the blueberries for half the raspberries.

The juicier, plumper versions of blueberries work better than the tiny ones. 

The syrup will have more skins.

You can puree, mash or press the syrup through a fine sieve to remove the skins.
Cornstarch can easily be modified to achieve a thinner consistency.
For best flavor, use fresh blueberries and freshly squeezed lemon juice

The syrup can thicken as it sits in the refrigerator. You can thin the syrup with more juice if necessary.
Storage
The homemade blueberry syrup can be stored in the refrigerator in an airtight jar for up to one week.
Or freeze to 3 month.

To reheat, heat in the microwave for a few seconds.
Blueberry juice is my go-to when I want to indulge. It has a stronger blueberry flavor, but it can be quite expensive for such a small bottle. Grape juice and apple juice are also great choices.