Food & Drink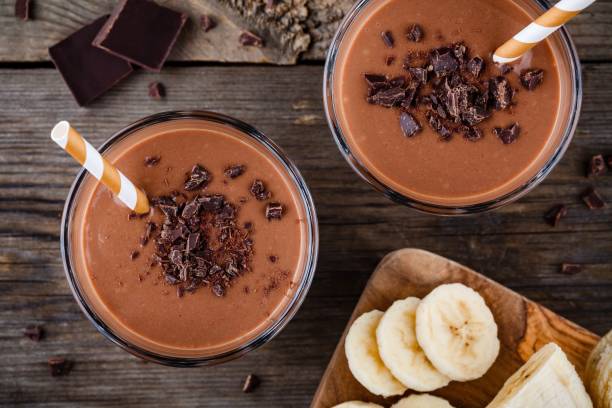 CHOCOLATE COFFEE BREAKFAST SMOOTHIE
This Chocolate Coffee Breakfast Smoothie makes a great dessert and a clever way to get more vegetables into your day. The smoothie is made thicker and creamier by adding a scoop of riced cauliflower. Thanks to its thick texture and coffee chocolate flavour, this smoothie is reminiscent of a Wendy's Frosty.
CAULIFLOWER OPTIONS
If you're not down with the whole cauliflower-in-a-smoothie idea, a basic coffee-chocolate-banana smoothie is also good. However, the cauliflower makes it thicker and more ice cream-like.
Frozen cauliflower florets can be substituted for riced cauliflower if you have a strong blender. Rice cauliflower makes blending much easier until smooth, even for smaller blenders.
COFFEE OPTIONS
Instant coffee (freeze-dried coffee) was used in this smoothie. It's so easy to use. Instant coffee is inexpensive and blends easily into the smoothie. It can also be stored in a sealed container, so it doesn't go bad. You can substitute instant coffee with strong brewed coffee or chilled espresso if you don't want to use instant. You could substitute 1/4 to 1/2 the milk in the recipe with coffee.
SEEK TO LOVE YOUR LIFE
Although the banana adds a subtle sweetness, I prefer to add some sugar to compensate for the natural bitterness of the cocoa powder and coffee. This recipe can be modified to use any sweetener and in any quantity. Blend your smoothie, then add the sweetener of your choice to your liking.
CAN I SHOP THE BANANA BE DONE?
I wouldn't advise skipping the banana in this dish. Frozen bananas add a lot to that ice cream-like texture and a touch of sweetness. You don't have to be a banana fan to enjoy the final product.
WHAT ELSE CAN YOU ADD TO THE BREAKFAST SMOOTHIE
Breakfast smoothies can be made in many ways. These are some things you can add to your chocolate coffee smoothie while keeping the flavour profile consistent. You can add some rolled oatmeal (although you may need to add more liquid), flaxseeds and vanilla extract.
CHOCOLATE COCOA BREAKFAST SMOOTHIE
This Chocolate Coffee Breakfast Smoothie makes a great dessert and sneaky way of adding more vegetables to your daily diet.
Prep time: 5 minutes
Total Time: 5 minutes
INGREDIENTS
1/2 

frozen banana

 ($0.10)

1/2 cup 

frozen riced cauliflower

 ($0.21)

1 Tbsp unsweetened chocolatea powder ($0.04)

1 Tbsp instant espresso ($0.07)

1 cup milk* ($0.41)

1/2 teaspoon sugar** ($0.01)
INSTRUCTIONS
Blend all ingredients in a blender until smooth. Adjust the sweetness to suit your taste. Serve immediately
NOTES
*You can use any kind of milk, non-dairy or dairy milk. The creamier the milk is, the better.
HOW TO MAKE CHOCOLATE CHOCOLATE BREAKFAST SMOOTHIES
This smoothie can be made with just banana, rice cauliflower and unsweetened cocoa powder. You may also add some sugar or your preferred sweetener (not shown). Both the riced cauliflower and banana should be frozen together for the best ice cream texture and flavour. This tutorial will show you how to freeze bananas and riced cauliflower.

Blend 1/2 cup frozen riced cauliflower with 1/2 cup frozen banana, 1 Tbsp cocoa powder, 1 tbsp instant espresso, 1/2 cup milk, 1/2 teaspoon sugar and 1/2 tsp of sugar in a blender. You can add the sugar to the blender after it has been blended, but you don't have to wait until then if you prefer to sweeten it.

Blend the smoothie until smooth. If necessary, taste and adjust the sweetness.

This chocolate coffee breakfast smoothie is rich and creamy! This one will make you feel like Frosty!

With this recipe, you can make one large or two small chocolate coffee breakfast smoothies. What do you prefer? Breakfast or dessert?