Food & Drink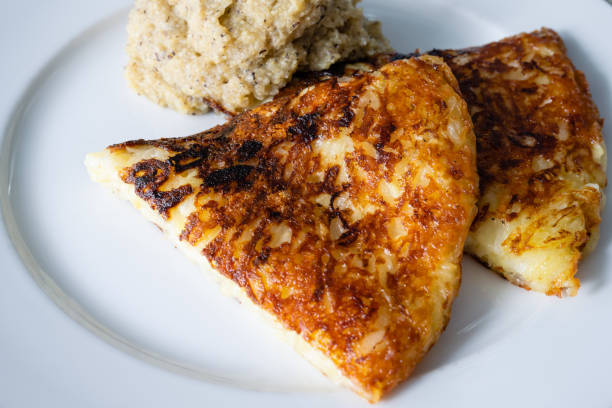 Potato rosti recipe
Rosti, the traditional hiking food of Switzerland, is a dish made from fried grated potato, often topped off with bacon, cheese, or a fried egg. This hearty dish is served year-round in many mountain huts, restaurants, and hotels.
Since moving to Switzerland in Switzerland, I have eaten Rosti on numerous hikes and skiing days. My Swiss neighbor taught me how to cook it using traditional methods. We now include it in our regular menu.
Here I will give you a simple recipe and also explain the ingredients and cooking method of Rosti. When I first made Rosti, I thought it would be easy, but I made rookie errors that made it more difficult than necessary. Please avoid this by following my tips as we say in Zurich, en guide!
What is Rosti
Rosti is a dish where grated potatoes are then fried in a pan. Rosti is a potato dish with grated potatoes pressed into a thick "pancake" and crisped on both sides. The potatoes are not bound by flour or egg, as they are in latkes.
Rosti, a dish served in many mountain restaurants throughout Switzerland, is often topped with fried or melted egg, bacon, and cheese. It is sometimes served as a side dish, for example, with bratwurst, onion gravy, sliced veal, or pork in a cream sauce (a traditional Zurich dish called "Zurigeschnetzeltes").
It reminds me of all the excellent meals we had while hiking. This was my favorite Rosti ever, served at Berggasthaus Bollenwees on the amazing Saxerlucke hike. The Rosti is deep-fried to make it extra crisp.
Potatoes for Rosti
Use a potato that is not too starchy or waxy. The potato should retain some shape and not turn into mush. However, it shouldn't be so firm that you can taste every strand. Yukon Gold potatoes are a great option in the U.S.
Many supermarkets in eastern Switzerland sell potatoes that are specifically marked for Rosti. They usually come in red bags (blue for starchy and green for waxy). If you cannot find the bag, use Festkochend potatoes (waxy).
Subscribe to my newsletter for exclusive Swiss travel advice!
I share hiking ideas in Switzerland for the weekend or your upcoming vacations each week.
I consent to receive emails and personalized ads.
Because I don't plan too far in advance, I always grate the potatoes just before cooking them. In my experience, there is no significant difference between freshly ground potatoes and parboiled potatoes in terms of the texture of Rosti. Do what you like and don't worry if it isn't traditional.
Grating Rosti potatoes
Most Swiss cooks grate the potatoes manually on a large-holed grater, known in Switzerland as a Rosti Raffel. I've done it many times, but I wouldn't say I like it. The potato juice will run onto the counter as you grate. As the potatoes become smaller, I scrape my knuckles against the grater.
My food processor's grating function makes this job much faster and easier. The grate may be significant, but the efficiency benefit is worth it.
It is helpful to squeeze out as much moisture from raw potatoes as possible to promote crisping. (Thanks to Cook's Illustrated for this useful tip). I squeeze the potatoes with my hands briefly. I have also used a ricer for potatoes, which is faster but takes longer. I've made Rosti without pressing the moisture from the potatoes, and it works.
Toss grated potatoes in salt before cooking. Use about one teaspoon per full pan. The Swiss don't add a binder to the potatoes, such as flour or eggs.
Pre-grated Rosti Mixes
When I arrived in Switzerland, I was shocked that many Swiss friends used the pre-grated parboiled Rosti packs available at most grocery stores. After years of making bad judgments about my friends, I finally tried the pre-grated Rosti. It's better than I thought. It's not my favorite because the texture could be more pleasant.
You can use packaged Rosti by cutting off the end and pressing the potato block in your pan. Butter or any other fat is already included in the mixture, so you don't have to add it. You then break the rectangular block to separate the potato pieces and shape them into a circular shape, as shown in the photo below.
The potatoes in the packaging are soggy that it is difficult to get them crisp and stick together. These pre-packaged Rosti often fall apart when I flip them. This never happens with home-grated Rosti. This pre-seasoned Rosti mixes also taste too salty to my liking. Even though grating the potatoes myself would be extra work and messy, I prefer the final product.
These Rosti packs make a great convenience food to keep in your pantry. They are also a good option for an easy last-minute meal. Many different flavors are available, including sausage and cheese. You can use the plain version and then add your toppings.
Butter is a must!
Butter is the key to crispy Rosti. The more butter, the better. Swiss Rosti recipes recommend adding butter to the empty pan and rubbing it around the sides while cooking. This is something I do every time I cook Rosti. It helps crisp up the edges. This is how I have used up an entire stick of butter.
Add butter to the pan after flipping the Rosti so that the second side is covered with fat on the sides and underneath. If you don't, the second side of your Rosti will burn instead of becoming golden.
Use clarified butter and Ghee. The milk solids are removed, and it cooks more golden, without the dark burnt spots. My Swiss friends and I use regular butter.
Use a nonstick pan, not cast iron
Rosti is often served and cooked in small pans made of cast iron. The pan can be placed into the oven to crisp up the final product and melt the cheese, bacon, and egg.
It was a complete disaster when I tried to cook it in my cast-iron pot (about 24cm). The potatoes would stick to the pan no matter how much butter I used. The pan's straight sides made it impossible to flip the Rosti. The pan was too heavy to flip onto a plate or cutting board.
If you plan to serve your food in cast iron, I recommend cooking in a nonstick pan first and then switching to the cast iron pan to crisp it up in the oven before serving.