Food & Drink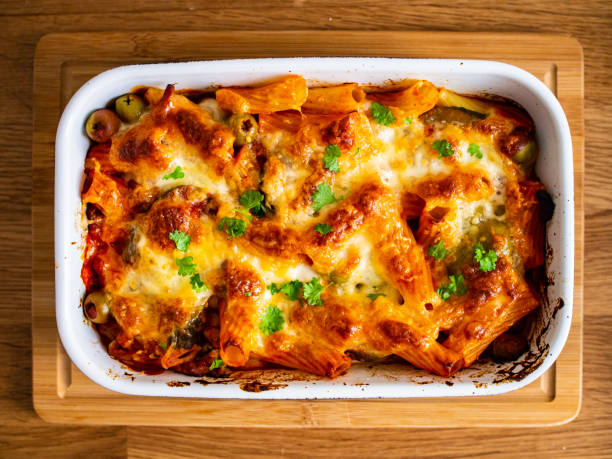 ROASTED VEGETABLE BAKED PENNE
It was supposed that this would be a baked ziti. But, it turned out that ziti is almost impossible to find at grocery stores, so I made a Roasted Vegetable Baked Pene instead. Sometimes, you have to accept it. It's loaded with colourful vegetables, a homemade red sauce, and layers of cheese. Although this recipe makes a lot of pasta, the leftovers can be frozen and enjoyed all year.
TAKE A SHORT CUTS
The roasted vegetable baked pasta is a labour of affection because of all the moving parts. However, you can cut down on the work by using a jarred sauce to make your own. About one and a quarter ounces of pasta sauce is needed. You can use jars of pre-made pasta sauce instead of the one listed below.
HOW TO STORE LEFTOVERS
As I mentioned in my intro, this recipe makes a lot of pasta. The leftovers are delicious and a great option to keep in the freezer for quick meals or grab-and-go lunches. Once the pasta has been baked, divide it into individual containers and place it in the refrigerator. After the pasta has cooled completely, transfer some or all of the containers to a freezer for extended storage. I freeze the rest and keep as many as possible in the fridge. You can quickly heat leftovers in the microwave.
WHAT VEGETABLES CAN I USE?
So I could make a colourful mixture of yellow squash, bell pepper, red onion, red and zucchini. I used a classic combination. Here are some alternatives to these vegetables:
Mushrooms

Eggplant

Broccoli

Cauliflower

Carrots
It would be best if you opted for soft vegetables in this dish. However, if you can add more firm vegetables to the dish, you can cut them into smaller pieces to speed up their cooking.
ROASTED VEGETABLE BAKED PENNE
This roasted vegetable baked pasta is a delicious combination of layers of pasta and flavorful roasted veggies. It also includes a simple homemade sauce and melty cheese.
Prep time: 15 minutes
Cooking Time: 1 hour 25 minutes
Total Time: 1 hour 40 minutes
INGREDIENTS
ROASTED VEGETABLES
1 red onion (0.44)

1 zucchini ($0.79)

1 yellow squash ($1.11)

1 bell pepper ($1.69)

2 Tbsp olive oil ($0.26)

1/8 tsp salt ($0.02)

1/8 tsp pepper ($0.02)
SIMPLE RED SAUCE
1 yellow onion (0.32)

2 Tbsp Butter ($0.26)

1 28oz. 128oz. can of crushed tomatoes ($0.79)

3 tbsp tomato paste ($0.12)

1 Tbsp Italian Seasoning* ($0.30).

1/4 tsp salt ($0.02)

1/2 cup water ($0.02)
PASTA & CHEESE
1 lb. penne ($1.00)

15 oz. ricotta ($2.19)

2 cups of shredded Italian cheese mix**, divided ($1.86)

1/4 tsp pepper ($0.02)

1/4 tsp salt ($0.02)

2 Tbsp chopped fresh parsley (optional garnish). ($0.11).
INSTRUCTIONS
Pre-heat the oven to 400oF Cut the bell pepper, red onion, yellow squash, and zucchini into 1-inch pieces. Place the chopped vegetables on a large baking sheet. Use oil to coat the vegetables. Season with salt and pepper. Toss the vegetables until they are well coated with oil.

Bake the vegetables in the oven for 45 minutes, turning once halfway through.

Start the red sauce while the vegetable roast. Finely chop the yellow onion, and then add it to the saucepot with butter. Let the onion cook for about a minute or until it is tender. Mix the tomato paste, crushed tomatoes, Italian seasoning, salt and water.

Mix the sauce. Let the sauce come to a boil, then reduce the heat to low. Once the sauce has cooled, please turn off the heat and let it simmer for about 30 minutes, stirring occasionally.

Mix the ricotta cheese with 1 cup of the shredded Italian cheddar cheese mix in a large bowl. Season the mixture with 1/4 teaspoon salt and pepper.

Penne can be made by boiling large quantities of water. Once the water has boiled, add the penne to the pot and boil the pasta until it is tender. Then drain the pasta in a colander and return it to the pot with the heat turned off.

To coat the pasta with the red sauce, stir one cup into the pasta. Mix the roasted vegetables with the red sauce. Stir to combine.

Layer the casserole by placing half the sauce-coated penne in a 9×13″ (or 3 quarts) casserole dish. Layer half the cheese mixture and half the red sauce and roasted vegetables. You don't need to make a layer of ingredients or cover the previous one. Continue with the second layer of pasta, cheese and vegetable red sauce. Finish the dish by topping it with the second cup of shredded Italian cheese.

The casserole should be covered with foil so that it doesn't touch any cheese. Bake the casserole for 35 minutes in an oven at 400oF. After 35 minutes, take the foil off and flip the oven to broil. Broil the top of your casserole to brown the cheese. (Be careful as ovens can vary a lot). Sprinkle with chopped parsley and serve.
NOTES
If you don't have Italian seasoning, you could substitute it with equal amounts of dried basil, oregano, and marjoram. If you don't have shredded Italian cheese mix, substitute equal amounts of Parmesan, mozzarella, and provolone.
NUTRITION
Serving Size: 1 serving Calories 494.86 Kilocalories: 60.24 G Protein: 20.76 G Fat: 19.79g Sodium 681.56mg Fiber: 5.35g