Food & Drink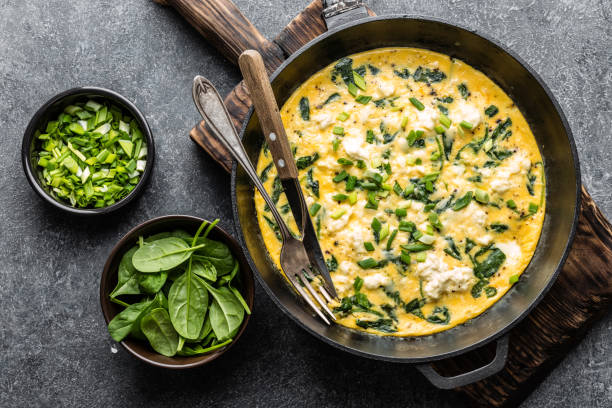 SCRAMBLED EGGS – SPINACH AND FETA
Here's a quickie to help you get through this weekend. It's always a challenge to find ways to make the most of fresh spinach. Scrambled eggs with Spinach and Feta are one of my favourite ways to use it up. It's quick (like, fast enough for a weekday), delicious, and makes me feel pampered. You'll also find many different ways to serve these eggs.
HOW TO SERVE SCRAMBLED EGGS w/ SPINACH AND FETA
You may be wondering, "Who doesn't know how scrambled eggs are served?" You might be thinking, "Who doesn't know how to serve scrambled eggs?". You can do many fun things once the eggs have been made. My favourite? Make them into a quesadilla! Place the scrambled eggs, spinach, and feta on one half of a tortilla. Top it with some shredded mozzarella. Fold it over, then toast it in a pan. BOOM. So delicious.
You can stuff scrambled eggs in a wrap with bacon or into a pita for a quick, portable, and easy breakfast. You could also try a bagel. Yes, please! These scrambled eggs can be used as toppings for a breakfast meal.
WHAT ELSE CAN YOU ADD?
Spinach and Feta are just a starting point. To my scrambled eggs, I add whatever vegetables are in my fridge. Tomatoes and diced bell pepper are great options. Have leftover green onions? Cut them up and toss them in! Do you have half an avocado leftover? It can be used to top your eggs. There are no limits to your creativity.
GREEN EGGS & HAM
This is your chance to be Dr Seuss, you always wanted. Seuss dreams, friends. You may notice a slight green tint to the eggs when they sit on your plate. I love adding ham to scrambled eggs for a "green eggs and bacon" breakfast. It's so much fun! It would be fun to dice the ham, saute it in a skillet, and add spinach. Continue as instructed below.
SCRAMBLED EGGS – SPINACH AND FETA
These delicious scrambled eggs with spinach, feta and bacon are quick and easy to make on a weekday. They are also great for using up leftover spinach!
Prep time: 5 minutes
Cooking Time: 5 minutes
Total Time: 10 minutes
INGREDIENTS
4 oz. fresh spinach ($0.65)

4 large eggs ($0.92)

1 Tbsp butter ($0.13)

1 oz. Feta ($0.55)

1 teaspoon crushed red pepper ($0.02)

1 teaspoon freshly cracked black pepper (0.02)

1 pinch of salt ($0.02)
INSTRUCTIONS
Cut the spinach into small pieces, about 1-inch in size. This step can be skipped if you prefer a quicker breakfast. However, I like the smaller pieces that aren't as stringy as whole spinach leaves.

Add the eggs to a large bowl. Season with a pinch of salt. Whisk until smooth.

Melt the butter in a large skillet over medium heat. Sauté the chopped spinach in a large skillet until melted (2-3 minutes).

Place the sauteed spinach on the outer edges of the skillet. Then, pour the eggs into it. As the bottom layer sets, gently fold the eggs until they are approximately 75% solid. Turn off the heat and fold the eggs in the sauteed spinach. The eggs will cook without drying out or overcooking due to the residual heat in the saucepan.

Serve the eggs by topping them with crumbled feta, some freshly cracked pepper and a pinch of crushed red pepper.
NUTRITION
Serving Size: 1 serving Calories 250.75 kcal Carbohydrates 3.6 g Protein 16.2 g Fat 19 g Sodium 589.3 mg Fiber 1.3 g