Food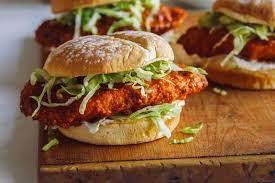 BAKED SPICY CHICKEN SANDWICHES
I'm sure you have never tried a yogurt-and-spiked chicken sandwich! I'm here to help. I created these Spicy Chicken Sandwiches to showcase how basic pantry staples can be used in new ways. We don't like food waste. The more versatile an ingredient is, the less likely it will go to waste.
After using plain yogurt to make my Homemade Chicken Nuggets bread, I knew it had to be done in sandwich form. It's the same, except I added three layers of spicy heat to the chicken. YES! Then I made a Honey Yogurt Coleslaw, which is very sweet to offset the heat from the chicken.
CAN THESE SANDWICHES BE REHEATED?
Baked Spicy Chicken Sandwiches taste best when fresh-baked. However, I have had good luck reheating baked chicken in a skillet on medium heat. Although they don't turn out as crisp as freshly baked, the heat from the skillet helps to remove some moisture and makes the bread less soggy.
SLAW OPTIONS
You don't have to make a sweet slaw. Instead, you can make a batch of my Homemade ranch dressing and use it as your slaw sauce. Ranch goes well with spicy chicken. P.S. Plain yogurt can also be used in the ranch dressing recipe. You could also use store-bought ranch sauce.
BAKED SPICY CHICKEN SANDWICHES
These spicy baked chicken sandwiches are three-layered in heat and topped with creamy-sweet, quick homemade coleslaw.
Prep time: 15 minutes
Cooking Time: 25 minutes
Total Time: 40 minutes
INGREDIENTS
BAKED SPICY CHICKEN
1/2 cup breadcrumbs ($0.13)

1/4 teaspoon garlic powder ($0.02)

1/2 tsp smoked paprika ($0.05)

1/2 tsp cayenne ($0.05)

1/8 tsp salt ($0.01)

Freshly cracked pepper ($0.02)

1.5 Tbsp of cooking oil ($0.06)

1/4 cup plain yogurt ($0.25)

1/8 tsp salt ($0.01)

1 tsp hot sauce ($0.04)

1 boneless, skinless chicken breast (about 1/3 lb. ($3.99)
HONEY YOGURT SLAW
3 cups of shredded cabbage slaw (pre-bagged), $0.65

2 Tbsp mayonnaise ($0.17)

1/3 cup plain whole-milk yogurt (0.33)

1/2 Tbsp honey ($0.06)

1 tsp Dijon mustard ($0.06)

1 tsp apple cider vinegar ($0.02)

1/4 tsp salt ($0.02)

Freshly cracked pepper ($0.02)
SERVING
INSTRUCTIONS
Pre-heat the oven to 425oF. To hold the chicken, place a cooling rack made of wire over a baking pan.

Combine the bread crumbs with the garlic powder, smoked paprika, cayenne and salt in a large shallow bowl or container. Mix the ingredients and then add the oil. Stir until the breadcrumbs look like damp sand.

Combine the yogurt, salt and hot sauce in a separate bowl or container.

Place the chicken breasts on a cutting board. Cover with plastic and then gently pound the breasts to a uniform thickness of no more than 3/4 inch. Then, cut the chicken breast in half and season it with salt and cayenne.

Dip each piece in the yogurt and hot sauce mixture. Make sure you coat both sides. Place the chicken coated on the baking sheet.

Bake, the chicken for 25 mins or until internal temperature reaches 160oF. Flip the chicken halfway through.

While the chicken bakes, make the honey yogurt salad. Mix the honey yogurt slaw, mayonnaise and yogurt in a small bowl. Season with salt and freshly cracked pepper.

Mix the shredded cabbage and the dressing in a large bowl. Stir until all the dressing is incorporated.

After the chicken has been baked, make the sandwiches. Add one slice of spicy chicken to each bun. Top it with some honey yogurt slaw. Enjoy!
NUTRITION
Serving Size: 1 Serving Calories 779.4 Kilocalories: 80.2 G Protein: 48.9g Fat: 30.9g Sodium: 1768.05mg Fiber: 9.15g